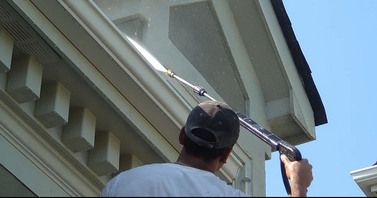 Why Elastomeric Technology is Inferior
Elastomeric is old technology, and is not needed anymore because of how much latex and acrylic paints have advanced. With today's technology, any decent latex and/or acrylic paint is elastomeric, especially satin finish paints.
The old technology of elastomeric paint is also an expensive option. It has a thick texture, and it does not spread far while repainting the interior and exterior of your home. Therefore, you would have to purchase twice as much paint.
Many of the painters who suggest using elastomeric paints for interior and exterior house painting are charging you more money, but not putting on a thick enough coat. In the end, they make more money, and end up giving you a thin elastomeric paint for your house painting project that is inferior to a good 25 year paint. The thickness of coating is important, but it is just as important as the chemical makeup of the paint too.
Ask yourself these questions as you are choosing the paint for your exterior and interior house painting projects:
1. Will the paint you choose for your exterior painting hold up to the sun? Most elastomeric paints are not as fade resistant as the paints I use for interior and exterior repainting projects.
2. If you are worried about the cracks in your home, Orlando painters from Paisley Painting, always caulk all of them with a 50 yr caulk, prior to applying a True Two-Coat Painting process for your exterior house painting.  In my professional opinion, this technique is far better than painting elastomeric paint over these exterior cracks.
If you have any questions, please feel free to Contact us! I will be happy to answer your questions!