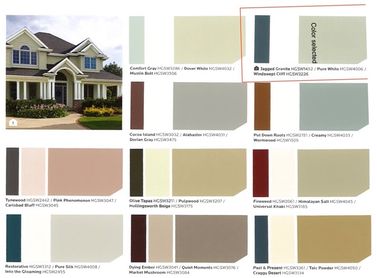 How To Remove of your stress making a color choice for your interior and exterior house painting:The Top 5 Must-Have Painting Apps for 2022
Do you agree that choosing a paint color for your home can be stressful? You can spend hours in the paint section of a store comparing paint swatches, attempting to find the perfect match for your interior or exterior home repaint.
Well, today we have some good news for you! Making your paint color choices will be significantly easier, and who doesn't crave reduced stress?
In this blog post, 5 Must-Have Free painting apps will be highlighted to make the task of choosing paint for your interior or exterior repaints easier on you!  These apps will remove a multitude of guess work and stress!
These painting apps will allow you to "virtually" apply paint so you can visualize how your paint color choice/s will look, as well as color match any photo on your smartphone.
These 5 top painting apps are either Android &/or Apple compatible.
Here is a list of the Top 5 Painting Apps that are available for 2022:
1. ColorSmart App will allow you to virtually paint a handful of interior rooms with 2 clicks!
App Created by Behr Mobile
Behr's app has a built in explore color function. It allows you as the user, to search for a paint shade by its name, number, or color family. The color-match function is especially user friendly, and allows you to take a picture or select an existing one from your photo library, and the Behr app will match that color with an existing Behr interior or exterior paint color.
Pros: The preview function for this app allows you to virtually paint a handful of interior rooms by clicking the paint color and the wall you want to visualize the paint color on. Cons:  You can see what the paint color looks like in a room, however, it's not the wall in your own home, so you can't see your specific wall with your design elements, which could change the way you choose your paint color.
One thing to take note regarding this app is that you may get different color-match results for the same color sample. Although these colors are extremely close in match, I would still recommend that you always put a sample on your wall and look at the real paint color you are trying to match for your exterior or interior repaint before making your final painting purchase.
The Best part of this app is the following:
It allows you to save projects, colors, pallets, and paint calculations so you can come back to your work at a later time. It  allows the you to explore possible color choices for interior and exterior repaints, and assists you with color matching.
But there's a catch…
This app does not have the functionality to personalize the look of the space from where you would like the paint colors placed in your home repaint.
2. Paint My PlacePaint allows you diversity to explore paint color choices from 3 different paint brands!
This app does not have an alliance with a major paint company, so this app allows you to explore your paint color options for interior and exterior house repaints for 3 different brands:
Benjamin Moore, Dulux, and Farrow&Ball.   I obviously prefer this app because it allows you to explore your color choices for Benjamin Moore paint, which is one of the paint companies I utilize in my painting contractor business.
So here's the deal…
This app will use one of your photos on your phone of the existing interior or exterior wall you are going to repaint. You can select the brand name, choose the color range, and  paint the area you would like to see virtually on your phone!
But here's the downside for this app…
The free version has ads, which may be distracting to the user. The paid version is $2.99, and the paid version will suggest colors for the interior or exterior wall repaint from your uploaded photo, plus it allows you to work with many different color choices.  The paid upgrade will also allow you to save and share your color choices for your interior & exterior repaints with others.
3. Color Capture allows you to match any colors in your smartphone photos, plus share with others!
App Created By Benjamin Moore
The app will match the colors in any of your photos and also reveal to the user the four closest shades you are comparing and matching for your interior or exterior house repaint.
The pros of this app…
It allows you to save your color choices, email your color choices, and post to 2 social media platforms, Facebook and Twitter.  Why not get your friends' and families' opinions & recommendations through social media to filter your ideas and/or to receive assurances and/or suggestions with your color choices for your interior and exterior house painting projects.
The cons of this app…
The reviews state that many app users found that the colors look very different on the phone screen than they do with an actual physical match. These are digital paint samples, plus the brightness & resolution of the phone screen can create variances in the color.
4. Color Snap makes it easy to match paint color choices to a photo in your smartphone!
This app is created by Sherwin-Williams
Here's the features you will love on this app…
You can create color palettes and match paint color choices to a photo in your smart phone. The color-match feature will automatically choose the colors in the photo that it is able to match and creates a color palette from the colors in your picture. This app also allows the user to choose a color match, and the palette will include a selection of complementary colors.
Here is the minor downside to Color Snap…
Each color choice for your house repaint can be viewed in a "sample room"; however, it's not a picture of the paint on your specific wall, with your specific design elements.
5. Color Connect connects you to a "live" color consultant to assist you in choosing your house color!
Created by Valspar
The app allows you to explore Valspar paint color choices that you can purchase through Lowe's, ACE, or independent retail stores.  It also includes a  paint calculator that helps you estimate how much paint you'll need for your project.
The savvy feature of Color Connect…
You can upload photos from your phone and receive advice from a color consultant via live video, audio, or e-mail. There are also how-to videos to help you get your project off the ground.
What's the downside to this app?….
You can not save your paint colors, and there is no search query box to look for paint colors.
And that's not all…..
We hope that you found this blog useful to decrease the stress in choosing your exterior paint color.  Paisley Painting would love to know how to serve you with your house exterior & interior repaints.
If you are ready to have your house exterior or interior repainted by an experienced, trustworthy, and thorough professional house painting company, with current and up-to-date liability and workmans' comp insurance, contact your Oviedo painting contractor company! Get your house exterior & interior repaint completed professionally at a competitive price!
If you have any questions, please don't hesitate to contact us at 321-244-3792 or by email.
We give our customers FREE Estimates within 2 hours, and your satisfaction is 100% guaranteed!
Happy Customers are the #1 priority! Paisley Painting, an Orlando Exterior Home Painting Company, looks forward to working with you!
Sincerely,
William Paisley, Owner/Orlando Painting Contractor, Orlando House Painter
321-244-3792