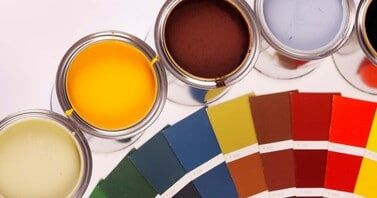 Types of house paint. Which is best?
If you are considering hiring an Orlando painting company to paint your home, you may be focusing on the colors available. But it is just as important to pay attention to the types of paint you can use on your home to get the most for your money. This will provide you with the best possible results and prevent you from needing to repaint every year.
Types of house paint
To get the most out of your paint, you need to select the right type for your home.
Primer Paint
Primer is used as a base for the actual paint to better adhere to. This will be the first coat to go on your walls, but is not to be used as the actual main paint. This is because primer is designed to enhance the paint you choose, rather than covering your walls. You should always make sure your primer is made of the same base as the paint you want to use. Do not use an oil-based primer with a water-based paint, or vice versa.
Water-Based Paints
Water based, or latex and acrylic paints, are a quicker drying option that produces a matte-like finish. This is a more environmentally friendly option, and better withstands issues like mold and mildew. Latex-based paints are well loved for how easy they are to work with. They are durable, easy to clean up and can withstand direct sunlight well.
How to choose
It can be hard to decide which paint to use on your home, especially with the misinformation out there from the big consumer sites. I hope this little bit of information makes your decision easier. Through trial & error, I now only use what I know to be the best paint available.
Firstly no matter what grade paint you choose, the best sheen finish for exteriors is Satin. Satin finish will fade less, stay cleaner longer and give a more slick surface where mold will have a harder time bonding to, than flat finish paints.
Sherwin Williams SuperPaint or Resilience will last longer & look better than the Standard paints. like A-100, but hard to say how much longer. Where you will really see the difference in durability is on the South & West sides of your home, especially if it's a 2-story with more exposure. We really like Sherwin Williams SuperPaint, it has proven to us, in our experience to be one of the best exterior paints.
The Primer/Sealer option is for those who want the longest lasting paint finish on their home, or for very neglected/chalky or peeling painting surfaces, then it's required. A good estimate of how long it will extend the life of your paint, is about 2-3 years.
Conclusion
Don't risk choosing the wrong type of paint for your home. To get the best results, pay attention to the type of paint first, then worry about colors. This will both provide you with a better result, and save you money in the long term.