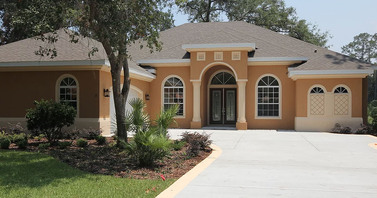 Why Does Paisley Painting Choose Florida Paints for your House Exterior Repaint, and Why You Should Too
Paisley Painting, is proud to feature one of the local businesses that we utilize in our painting contractor company.  This company comes with a rich legacy. The company was originally started as Color Wheel by the Strube familyin 1960, and sold their company to Sherwin Williams. Rock solid in their experience and technology, the same family began a second painting company, and called it Florida Paints.
As an Orlando painting contractor with more than 21 years experience, I search for the best quality products to use for my customers.  "Not all coats of paint are created equal… even with the same paint, one applicators paint coat can be applied much thinner than another paint."
As I searched for the best quality paint, I met with the chemist and owner of Florida Paints, and I was impressed with all aspects of their company. They are passionate to make the best quality paint; and when I use their paints for exterior house painting, the thickness and texture stand out above most all other brands. Florida Paints drys thicker than other paint brands; and once it is cured, the paint looks like it's more of a beautiful coating, as if your house is wrapped in vinyl versus paint.
In today's, blog, I am featururing Florida Paints Company, so you can start to see for yourself why this paint company stands out as one of the best name brand paints. Florida Paints was founded with the goal of providing a broad assortment of quality paint products and accessories, ample inventory, and the best customer service experience in the paint industry. The success of the company is dependent on quality products and unparalleled service. Florda Paints takes pride in the following tenants:
1. KNOWLEDGE
Florida Paints has the finest paint experts. Family owned and operated, the people behind Florida Paints are true paint professionals. The sales and management staff have over 150 years of combined paint experience, while the leadership team has over 200 years. When it comes to paint, Florida Paint's humbly believes that there is no other paint supplier in Central Florida with the deep well of knowledge that we possess.
2. QUALITY
Florida Paints designs their products for the Florida climate. Manufactured in Orlando, every Florida paint is formulated specifically to outperform the competitors in Florida's intense, unforgiving southern climate. The exterior paints and coatings resist wind-driven rain, mildew, and fading much longer than national brands; and their interior products provide outstanding washability, gloss retention, and long lasting beauty.
3. DRIVE
Florida Paints has a strong desire to satisfy every customer every time. In today's difficult economy, they realize that the customers' success depends on the ability to "get it right" every time. They pledge to do whatever it takes to ensure their products and service are of the highest quality, and that every Florida Paints experience is nothing less than a positive and pleasurable one. Florida Paints is excited to tell you their legacy and product, and invite you to give them the opportunity to show you The Florida Paints Difference.
4. EXTENDED GUARANTEES
As stated below, Paisley Painting offers Florida Paint as your standard & premium paint choices. With 15 & 25 year guarantees respectively, you can choose Florida Paints with confidence.
A. STANDARD (15 Warranty) Two-coats of Florida Paintes Glade, 100% acrylic satin paint, dry film thickness of 2.9 mils.
B. PREMIUM (25 year Warranty) Two coats of Florida Paints Seaside premium satin paint, dry film thickness of 3.4 mils.
When it comes to Oviedo painting contractor services, there is no better name to trust in than Paisley Painting. With 21+ years of experience as a painting contractor, we know what it takes to get the job done right. More importantly, we take care of our Central Florida customers.
We want you to be able to rely on Paisley Painting for whatever it is you may need completed for your residential or commercial property, as well as for your exterior home repaints. Paisley Painting contractor company provides you with the highest quality of prep work and clean up to go along with the professional Oviedo painting contractor work that we do. Contact your Oviedo painting contractor services today so we can get started working for you.
If you are looking for an Orlando painting contractor, contact us at Paisley Painting at 321-244-3792 or by email.
I look forward to working with you!
Sincerely,
William Paisley, Oviedo Painting Contractor/Oviedo House Painter/Owner of Paisley Painting